Welcome to The Ice Shack!
Arnprior's Cutest Little Ice Cream Shack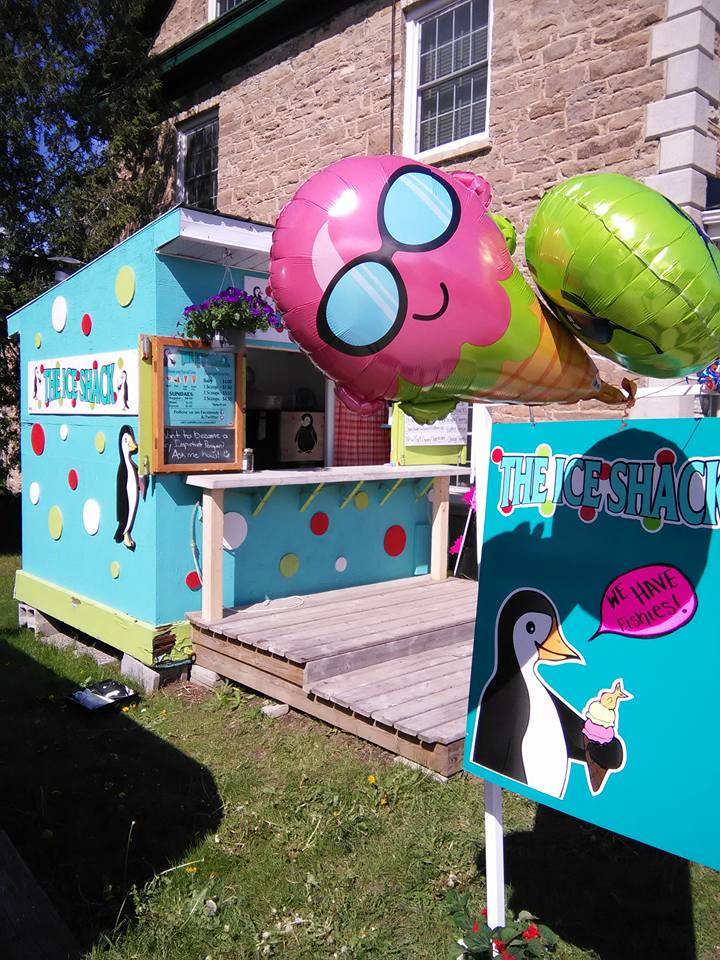 Home of The Milky Show weekdays 9-1 and playing the very best of EVERYTHING always! Local radio on the world wide web

The Ice Shack is a proud supporter of BlastTheRadio.com! Feeling a little down at work and need some great tunes and comedic relief throughout your work day? Tune into BlastTheRadio.com today! They are an internet based radio station so you can tune in anywhere there is an internet connection! Want to grab some BTR Bumper stickers to help support this awesome radio station?? Swing by The Ice Shack and get yours today!

Arnprior's Cutest Little Ice Cream Shack!
Offering a wide selection of Tracey's delicious Ice Cream!
Home of the Facebook Flash Sales! Follow us so you don't miss out!
A menu full of great options! Ice Cream Cones, Milkshakes, Fruit Smoothies, Sundaes and MORE!

Come Say Hi anytime,                  
Sheldon and Amiee :)

Coloring Contests:

Print off this sheet and color us an awesome picture! Bring it into The Ice Shack on your next visit and enter it into the contest! Every 14th and 28th of the month we will pick and announce a new winner! Pictures will be placed on display at The Ice Shack until the next contest! Winners will receive a free sundae like their picture!

Don't forget! Each time you enter you also get free sprinkles on your ice cream!

Ages 8 and under only!

New Penguin Logo Contest:
We have decided that we would like to update our brand to give it a fresh new look, but we need YOUR help!
We have seen so many fantastic pieces of artwork coming from all of our awesome customers, that we know our new penguin logo is out there just waiting to be drawn!
We welcome entries from all ages for this contest!
The rules are simple... Just draw, color and name an awesome penguin drawing! Get as creative as you can!
We would like the logo to contain a penguin, an ice cream cone with a fish on top then the rest is up to you!
The winner will receive an Special Gift pack from us to you!
Just print off this coloring sheet and draw us something awesome!!
At

The Ice Shack

we are happy to bring you a wide selection of Tracey's Ice Cream! Locally made in Renfrew, Ontario and is definitely the best around!
Our Flavours are always changing and adding new surprises for every visit! Follow our Facebook page and stay up to date on our ever changing list!

Have a Flavour you would like to see on our menu over the summer? Contact us anytime and let us know!

THE ICE SHACK is proud to offer NEW menu items, DELICIOUS ice cream, and FUN toppings
all for a reasonable price!

Ice Cream Cones
: Bowls, Baby, Regular cones, Sugar cones, Waffle cones, Waffle Bowls!


Milkshakes
: Chocolate, Vanilla, Strawberry, Orange Creamsicle, Purple Kangaroo, Chocolate PeanutButter, Birthday Cake, Mint Chocolate, OR
Build your Own!





Fruit Smoothies

:

Strawberry, Strawberry & Banana, Triple Berry!

Sundaes
: Build your Own! Available in one size only! Lots of yummy toppings to choose from!


Toppings

:

Sprinkles, Gummi Worms, Gummi Bears, Peanuts, Reese Pieces, M&M's, Oreo Crumbs, Cookie Crumbs, Skor, Cotton Candy Pop Rocks, Twix, Kit Kat, Brownies, and of course FISHIES !
Sauces: Chocolate, Caramel, Strawberry, Butterscotch
Mr. Freezies
: Orange, Grape, Watermelon, Cherry, Blue Raspberry, Pina Colada. Available in
Drinks: Bottled Water, Gatorade, MILKSHAKES, and Fruit Smoothies !

Candy
:
Assorted Bags of Candy for only 50¢
Do you have a question or a suggestion?!
Simply fill out the form below and we will get back to you ASAP!

We would LOVE to hear from you, or better yet...
Stop by The Ice Shack during our regular hours!

Our Address!


39 MADAWASKA ST.
ARNPRIOR, ON
CANADA
K7S 1R8

OUR HOURS!

Monday to Sunday - 12:00pm to 9:00pm